Ready to start your next project?
Start your free no-obligation single-storey extension quote today!
Get a quote
Single Storey Extensions Amersham
Improve your Amersham home's layout with a single-storey extension. We cater to a wide range of projects, no matter how big or small. An extension gives you the creative freedom to update your home to meet your needs. From making more space if you have a big family to just needing some peace and quiet, extensions are very diverse.

Bergson & Eaton are your local and trusted experts in Amersham and the surrounding areas. We offer a completely bespoke service so that we can work closely to design your dream single-storey extension. With our in-house team and turnkey service, you can start planning straight away. Request your free quote using our design tool.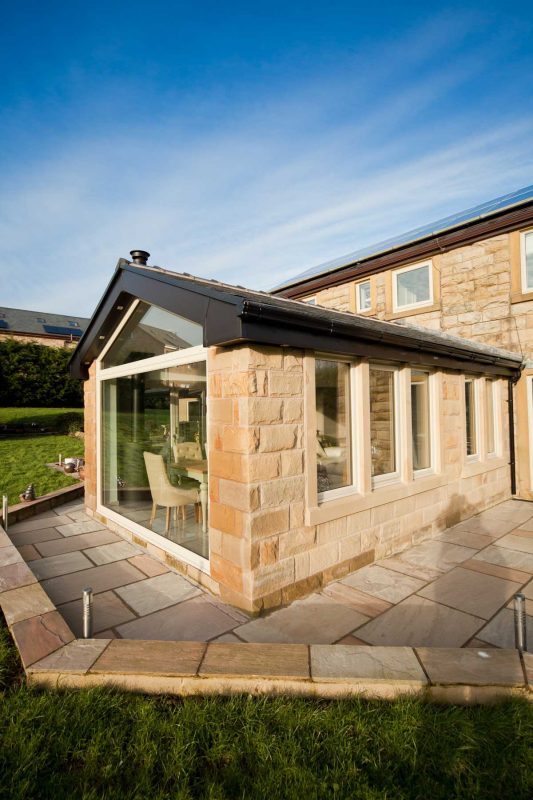 Contact Us
What Are Single Storey Extensions?
A single-storey extension is simply a solid build connected to one storey of your home, usually the ground floor. It is the ideal solution for Amersham homeowners that want to improve the format of their property. Each property is unique, and extensions allow you the flexibility to create a space that works within your lifestyle.
Single storey extensions mean that you can enhance the Amersham home you love and are less costly than moving altogether! One of the most common reasons for single-storey extensions is to extend their living room, for example. However, this can be applied to any room within your property. Perhaps you want an additional downstairs bathroom or an office; the world is your oyster when it comes to our single-storey extensions.
Market-Leading Windows and Doors
We offer an extensive range of uPVC and aluminium windows and doors to be installed into your single-storey extension. If you are looking for something classic, bold, or modern, our window and door styles can be customised to complement your Amersham home. The design of our windows and doors do not compromise their functionality, as they will also help to enhance the performance of your property.
Single-Storey Extensions Amersham
Quality is at the heart of everything we do, from the foundations to the finishes. We also equip your single-storey extension with advanced locking mechanisms that will keep you feeling safe in your Amersham home. From multi-point locks to robust hinges, these features will hold excellent resistance against unwelcome intruders.
The locks we use are tested rigorously to check that they meet the latest industry standards and offer you optimal protection. The windows and doors in our single-storey extensions are accredited and offer options that comply with both PAS 24 and Secured by Design regulations. Our team can help you to find the right solution for your Amersham home.
We use both uPVC and aluminium frameworks for our single-storey extensions. Both these profiles are excellent insulators and will create a thermal blanket between your Amersham home and the outside. The brickwork and frames can achieve high energy ratings and low U-values, improving your home's energy efficiency.
We fit double glazing as standard into our single-storey extensions to retain your Amersham home's natural heat. There is an opportunity to upgrade to triple glazing if you wish. The glass panes will keep the warm air inside and prevent cold draughts from entering your property. You can feel warm throughout the year and rely less on your heating.
By choosing to invest in a new single-storey extension, you can benefit from modern manufacturing that prepares our installations for all types of weather. The weathertight installation and the high-quality framework will prevent unwelcome cold winds and water ingress from transferring into your Amersham home.
The windows and doors for our single-storey extensions require low maintenance so that you have one less thing to worry about. From time to time, we do advise that you wipe down the frames with a damp cloth and warm soapy water. We do offer a ten-year insurance guarantee so that if anything were to go wrong, we are on hand to help.
Single Storey Extension Prices Amersham
Update your Amersham home with a single-storey extension. Whether you are looking to expand your kitchen or have an additional storage room, there are various options to consider. Start your free quote using our handy online pricing engine. All you need to do is enter your preferred dimensions and contact information, and we will get back to you with a price.

A single-storey extension is a big decision, and we are here to answer any questions you may have. Get in touch with our team by sending us a message through our online contact form. We will respond to you as soon as we can. If you prefer to speak with someone directly, give us a ring on 01296 415 251. We look forward to hearing from you.
START YOUR QUOTE
House Extension Prices Online
Use our online quoting engine to get an estimated price for your new house extension. It only takes a matter of minutes to get your quote.
Get a quote