Start your free house extensions quote!
Use our online design tool to request your free no-obligation price!
Get a quote
House Extensions
We design and build a superb range of house extensions for homes in Amersham. The beauty of an extension is that it is unique to your property. You can create a brand-new space that meets your needs, whether for a home office or even a gym. Design a natural addition to your home that will improve its functionality.

Here at Bergson & Eaton, we have over 50 years of experience in the double glazing industry. We have carried out numerous installations and have an abundance of knowledge for your disposal. House extensions are a fantastic way to utilise your home and add to its value. Request your free quote using our design tool.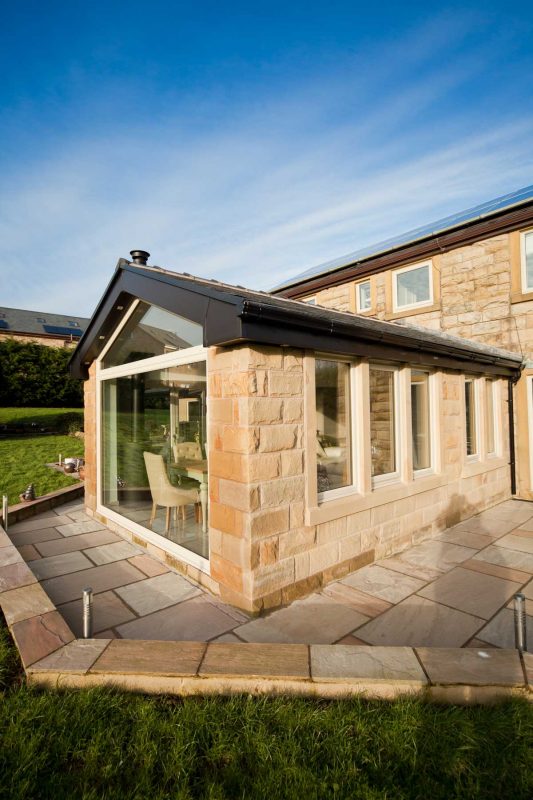 Contact Us
What are House Extensions?
House extensions are solid builds that are fitted onto the side of your home. They consist of brickwork with a combination of uPVC or aluminium windows and doors. One of the benefits of a house extension is that you can start from a completely blank canvas. Once you have the dimensions to your liking, you can choose the windows, doors and roof systems to complement your Amersham home.
From survey to build, we are here for you to provide you with our expert and impartial advice. Each of our house extensions comes with a ten-year insurance guarantee so that you can feel fully supported. In that time, if anything were to go wrong, get in touch, and we will be more than happy to help you. We bring unrivalled quality and experience for our Amersham customers to take advantage of.
Your security is our top priority, and we ensure that each of our windows and doors will provide you with optimal protection. A combination of security features, including multi-point locks, are fitted to reassure you that you are safe in your Amersham home. The locks that we use go through regular testing to check that they meet the latest industry regulations. We also provide options that comply with PAS 24 and Secured by Design regulations.
House Extensions Amersham
Each of our house extensions is made to measure to ensure that it matches your dimensions and meets your specifications. You can have full creative control of the shape of your new house extension, and we will be able to carry out your project and bring your visions to life. We will work with you closely to ensure we design your perfect extension.
We provide a wide range of window, door and roof options to add to your house extension. There is a selection of colours, finishes and hardware accessories available for your extension to compliment your Amersham property. You can create a room that is truly your style and will enhance the décor of your home.
Excellent Thermal Performance
There is a mixture of insulating features in our house extensions that will help to improve the thermal performance of your Amersham home. Insulating brickwork and our innovative roof systems will provide a thermal blanket between your property and the outside, keeping the cold air outside.
We fit double glazing as standard into windows and doors for our house extensions. The glass panes retain your Amersham home's natural heat, preventing any warm air from escaping. You also have the option to upgrade to triple glazing if you wish. Over time, you can spend less on your energy bills and lower your carbon footprint.
We understand that the British weather can be testing, and it can be difficult to even keep up with it. You do not need to have that worry with our house extensions, as they can withstand any adverse weather conditions. The robust foundations and double glazed units will help to secure your Amersham home at all times.
We are members of FENSA, a government-authorised scheme that assesses and certifies that we comply with the latest building regulations. We always build house extensions that are going to enhance your Amersham home. Get in touch with us today to find out more and to start planning your next project.
House Extension Prices Amersham
Extend the space in your Amersham home with a stunning extension. Whether you are looking for something traditional or bold, create a brand-new social room. To get started, request your free quote using our pricing engine. It only takes a few minutes to complete, and we will get back to you with a price.

Want to speak to our team about your next project? Send us a message through our online contact form, and we will get back to you as soon as possible. If you prefer to speak with someone about an immediate question, please give us a ring on 01296 415 251 and have a chat with us. It couldn't be easier to start your journey with us.

START YOUR QUOTE
House Extension Prices Online
Use our online quoting engine to get an estimated price for your new house extension. It only takes a matter of minutes to get your quote.
Get a quote